When you need to make a fancy email signature for the footer of your emails, the best way to make one is to use an email signature generator. This is a website or application that allows you to add the fields for your signature like your name, job title, company information, address, social media icons and more. There are a number of signature generators around on the web, but some of them are hard to use and some of them are too limiting, and some require expensive paid plans like paying $2 per signature per month!
I've made a list of some of my favorite email signature generators out there so that you can make a nicely designed email signature without having to code it yourself, which can become a complicated and annoying process because of how many different email clients and websites out there. These generators simplify the process to creating the signature and then copying and pasting it into Outlook, Gmail, Apple Mail, or whatever email program you use.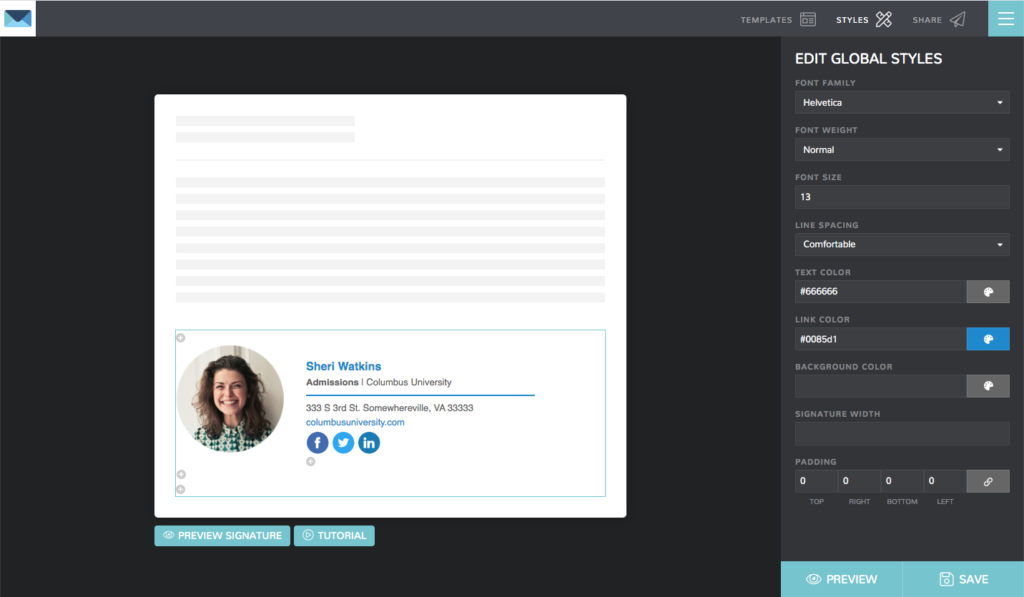 Signature.email
Signature.email is an email signature generator that is made for designers and agencies that want a little more creative control over what they are making. It is a visual builder tool that allows you to start with a template, and then start to add, remove and rearrange fields to create what you want. The nice thing is that there isn't a limit to how many fields or in what configuration. The sky's the limit here. Which each field you can control the font styles, colors, and spacing for it.
You can create a signature and copy it completely for free for a single signature. If you need to save your signature and pass it out to your entire company then you can sign up for a paid account which gives you the ability to create a custom email signature generator link for your employees. This is a pretty simple way to deal with email signatures within a company.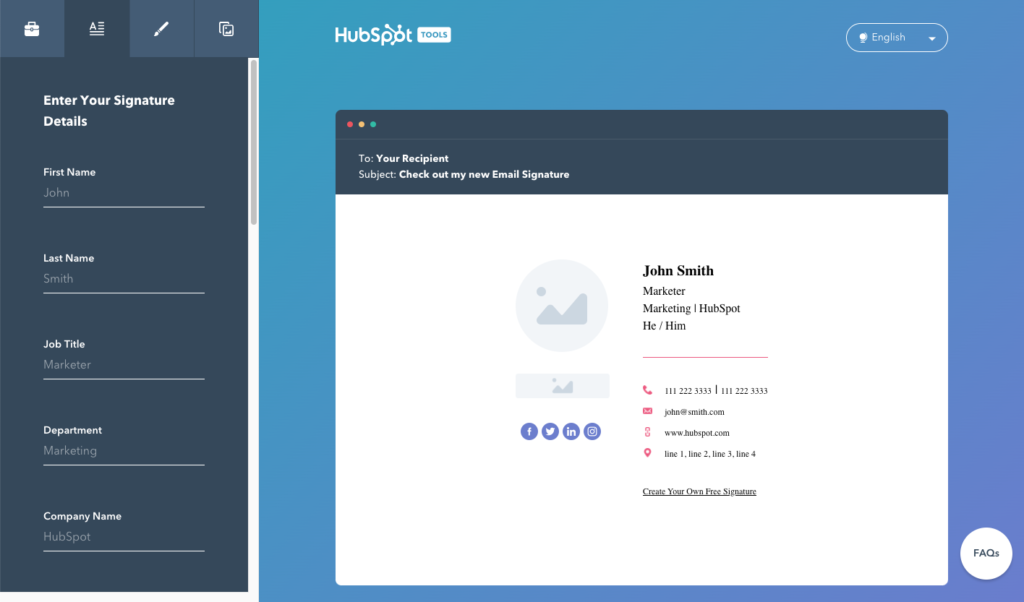 HubSpot
Hubspot offers a free email signature generator if you are looking for something with less options. With this particular one you just choose from one of their six templates and then fill in your name, email, and phone numbers. You can't really add new fields or rearrange things here. It has a few things you can change to customize the colors and fonts, but the styling options are limited. It is well designed and clear to use. If you are looking for a simpler option, then this is a good way to go.
It doesn't offer the ability to save your signature and edit it again later, and it doesn't have the kind of functionality for a whole company to use it. So this one is mostly just for personal use.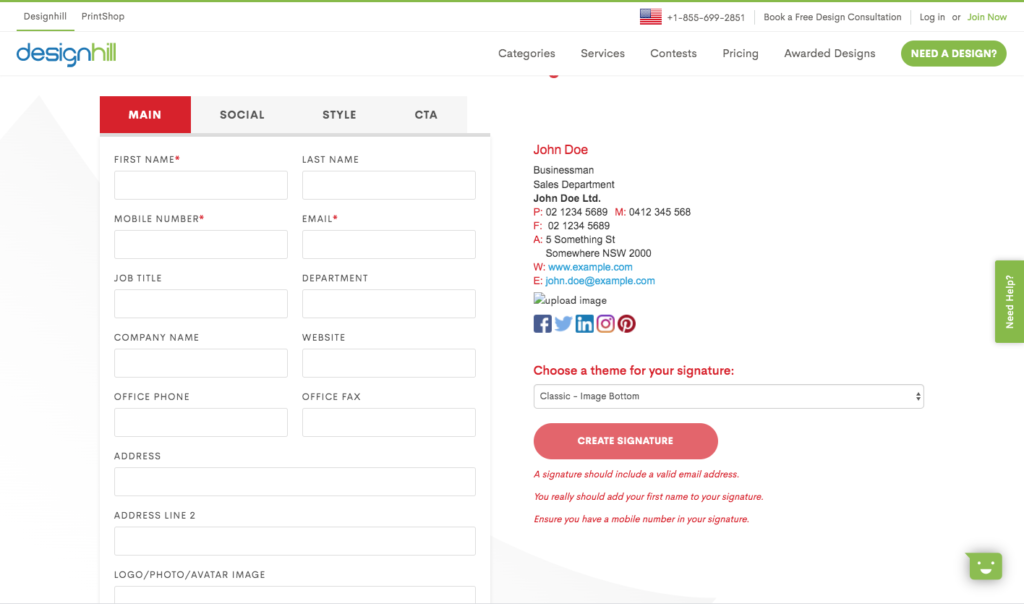 Designhill Signature Generator
The Designhill email signature generator is a nice basic one that gives you tabs of information that you can fill in with your personal information like name, email and company name. They have a few simple templates to choose from as well, mostly just rearranging where the logo goes and stuff like that. There are some options as well where you can change the styles like colors and fonts, but they are mostly across the whole signature and so it can be frustrating if you want to change a color for only a single item or field. It's nice that they have a preview right as you are making the signature so you know what you are getting right away. The ability to add a CTA (Call or Action) banner is also convenient and helpful.
This one is a free offering so while they will let you upload an image, they won't save your signature. This is fine for many people, but can be frustrating if you want to return to the signature and switch out a CTA banner or update your job title.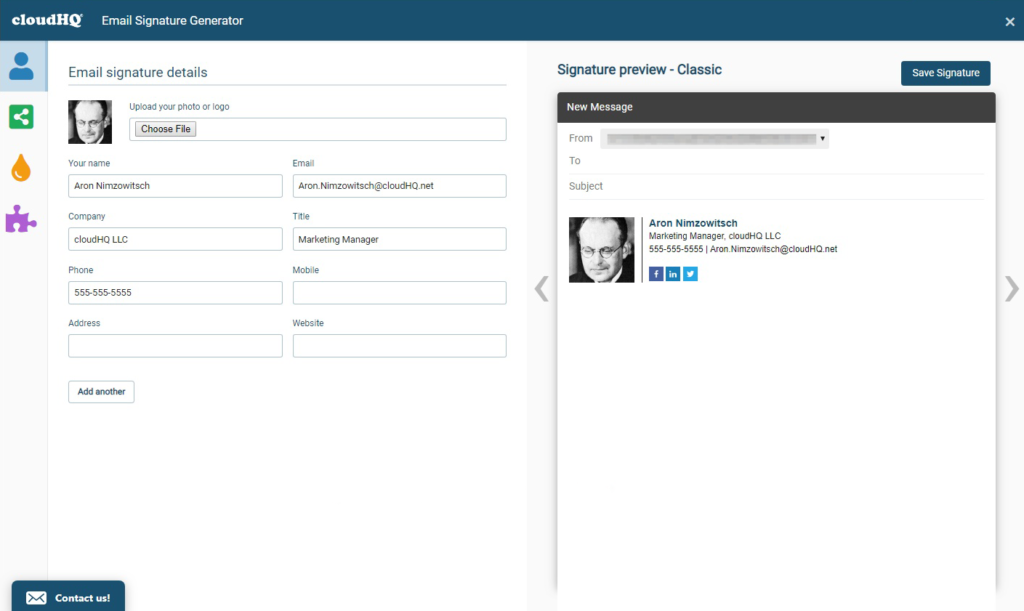 cloudHQ Chrome Extension
A different kind of option is the Email Signature Generator Chrome extension by cloudHQ. This one is only for Gmail users, so this won't be best for you if you are an Outlook user or some other email client. Instead of being a website that you visit, you'll need to install the Chrome extension from the Google Chrome store. Once you have that installed you'll customize your signature inside of the Gmail interface. Similar to the Hubspot and Designhill generators you will fill in your personal information and choose from a few of their available templates. You can upload a logo and choose some colors for your signature. The options are enough but could be limiting depending on what you are trying to create.
It's free to make a signature, but costs $5/month to remove the link to their extension from your own signature. This is kinda unprofessional so if you don't want to pay the $5 then maybe its not worth checking out.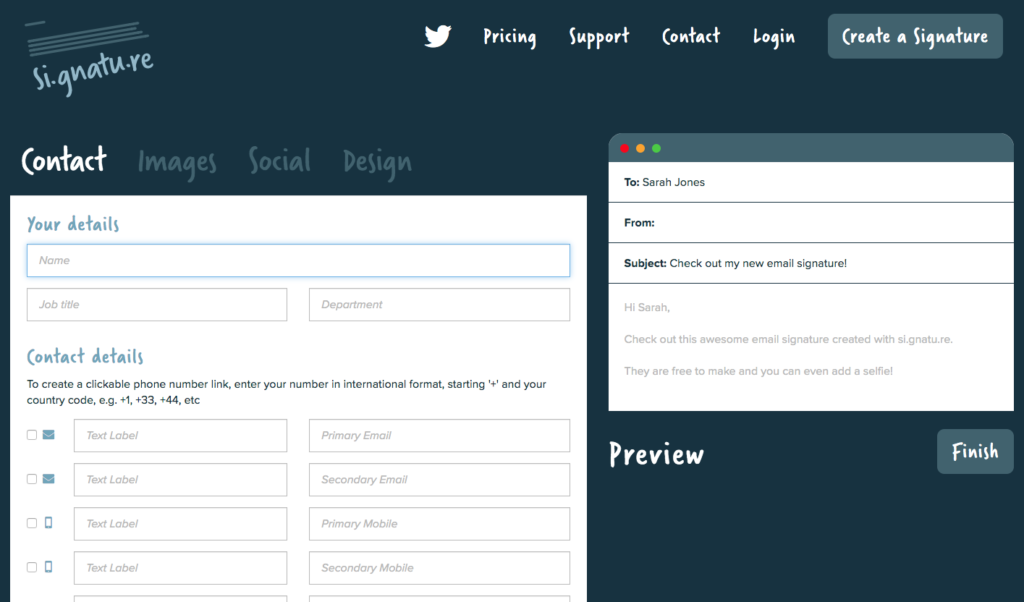 si.gnatu.re
Finally if you are looking for a personal signature then si.gnatu.re is a friendly and cheap option. All you need to do is visit their site, click on "Create a Signature" and get started. Along with the basic personal information they have a wealth of social media icons you can add and a few more style options than some of the other generators. The one thing that seems to be missing here is the ability to choose from a few templates to get some variety in the kind of signature that you want.
You can save your signature for 30 days, or pay a one time $5 fee to save it for longer, that is about the cheapest I have found for saving a personal signature if that's what you need.
As you can see email signature generators come in all shapes and sizes. These five options probably don't even cover the half of them out there. There are a ton more that are geared for enterprise level businesses with thousands of employees and complex integrations needed. If that's what you are looking for then you may want to do some additional searching around the web.
Remember when you are creating your signature to add the right amount of information. Not too much and not too little! Many people keep their signature to just their name and company in plain text, this can be fine, but its much more helpful if your signature has useful information like your phone number, website and address for the people viewing your emails. On the other hand, many people go overboard and try to add way too much to their signature. Don't add everything, but decide what is most important and needs to be communicated in your email signature. 
Good luck out there on your email signature building journey!